If you have questions unanswered, feel free to send us an e-mail at tyrolen (at) klubbkalabalik.se.
Kalabalik is a annual DIY weekend festival taking place just outside the small city of Alvesta located in the middle south of Sweden. A small scale event with a unique atmosphere and an inspiring line up of contemporary artists from across the world.
Find below an overview of the area with points of importance marked. Click to enlarge.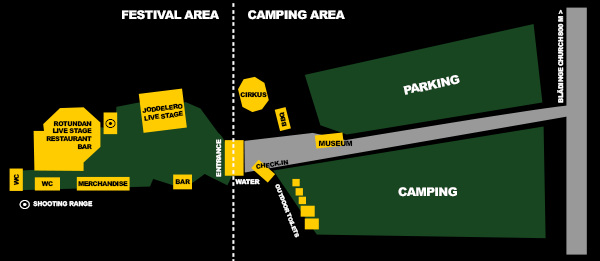 Pre-sale tickets are handled by tickster and delivered as PDF for print or mobile. Available this year are five ticket types, the regular weekend ticket, a price reduced ticket for youth under the age of 21 and the supporter ticket. They are all virtually the same though the supporter ticket comes loaded with a goodiebag containing secret and exclusive merchandise related to the festival. There are also price reduced early bird tickets available until February 28.

Anyone under the age of 15 is welcome for free but must be in the company of a responsible legal guardian. Alcohol is served at the festival to anyone above the age of 18, anyone under the age of 18 will be marked with a special bracelet and can't be allowed to buy or consume alcohol at the event.
Our venue, Tyrolen, is an amazing scandinavian 1960's amusement park. Filled with lost in time artifacts and unique drawings of iconic people from back in the day.
Reaching this lost in time, isolated place may seem like a hard task at first. Thankfully, Alvesta has been a central part in the Swedish railway net since long back and the south of Sweden is closer to the rest of Europe than one might imagine, especially thanks to the airport in Copenhagen.

Distance from: Alvesta 7 km - Växjö 25 km - Malmö 180 km - Göteborg 220 km - Copenhagen 225 km - Stockholm 440 km - Oslo 505 km - Berlin 665 km



Ferries depart from Sassnitz, Rostock and Puttgarden in Germany. Go directly to Trelleborg or go through Denmark to Malmö or Helsingborg, 180-220 km from Alvesta. Check the links below for time schedule, fares and other information.



If going by flight, we recommend traveling to Copenhagen airport in Denmark. The main benefit being the possibility to directly transfer to train and go to Alvesta with no further hassle. The train ride from Copenhagen to Alvesta is about two hours long and tickets affordable.

In some cases (Amsterdam, Berlin, Weeze for example) it might be possible to travel directly to Växjö (Småland) Airport located about 30 km from Alvesta. Check the links below for further info.
TAXI
Tyrolen is a pretty long walk from Alvesta central station. Local taxi will provide special fares during the weekend ranging from 5-22 Euro depending on how many people are sharing. Their offices are located just by the train station, make sure to ask for a steady price before departing. Phone number is +46 472 19100.

CAMPING
As a festival visitor you are free to make use of the campground located right next to the festival area. Tents of all sizes and shapes are welcome as well as trailers/campers/caravans, though no electricity supplied. There is running (drinking) water available as well as outdoor toilets. The camping site is open from Wednesday 21:nd and visitors are allowed to stay until Monday 26:th.

RENT A CARAVAN
Vagnify is a company in Älmhult not far from Tyrolen. The specialize in renting out caravans and can deliver directly to the festival. Unfortunately their website is presented in Swedish only but feel free to send them an e-mail at danielasuhrborg@gmail.com. Please note that we can not provide electricity at the festival camping.


HOTEL
If you prefer your stay to be more comfortable you can book a room at Hotel Rådmannen located in the centre of Alvesta. This year with a special package deal saving you a few hundred kronors. All prices below include two nights stay (Friday and Saturday) for one person with festival ticket included.

Single room: 2285:- (230 EUR)
Double room: 1595:- (160 EUR)
Three people: 1565:- (157 EUR)
Four people: 1450:- (146 EUR)

Add another 200:- (20 EUR) to include a supporter ticket.
Booking by phone or e-mail only, details in link below.

PARKING
The parking is located right next to the campground and festival area and is free of charge.

TOILETS & HYGIENE
There are regular indoor toilets at the venue as well as sinks with running water and soap. The campground facilities has been recently upgraded and provide a total of seven outdoor toilets. Those daring may go for a swim in the nearby lake.

FOOD & DRINKS
The venue serves a variety of food and drinks. Lovingly prepared vegan and vegetarian alternatives are available as well as meat dishes of the local ecological variety.

CARDS & CASH
We accept and prefer payment by card, Swedish bills and coins might be needed in rare cases, i.e merchandise.

RULES & REGULATIONS
Any form of violence, discrimination and/or use of illegal substances are prohibited. Treat your fellow humans with respect!

HISTORY
The Kalabalik Festival has been running since 2011 and engaged over 100 acts, here are the previous line-ups.

KALABALIK PÅ TYROLEN 2018
Aleksei Taruts (RU), Celldöd (SE), Cold Comfort (UA), Diskoteket (SE), Dive (BE), Electroforez (RU), Europ Europ (NO), Gertrud Stein (UK), Geuxx (UA), Gil'otina (UA), Hatari (IS), Molchat Doma (BY), Monocorps (NL), Ploho (RU), Position Paralléle (FR), Roberto Auser (NL), Sololust (NL), Staatseinde (NL), TWINS (US), Vanligt Folk (SE), Villes Nouvelles (FR), Visitor (CA), Words and Actions (IT), Zanias (DE)

KALABALIK PÅ TYROLEN 2017
Agent Blå (SE), Belgrado (ES), Bestial Mouths (US), Buzz Kull (AU), Carino Cat (SE), Die Selektion (DE), Diesel Dudes (US), Dissocio Modus Trans (SE), Easter (DE), Forces (AU), Hante. (FR), IC3PEAK (RU), Kælan Mikla (IS), Lode Runner (RU), Morning Hands (US), Paralelo (ES), SDH (ES), Sólveig Matthildur (IS), Sturm Café (SE), Tied Hands (SE), Whispering Sons (BE), Xarah Dion (CA).

SYNTH BABES SHOWCASE:
Ninoosh (AU), Hija de Mamá Flora (MX), The Fleurs

KALABALIK PÅ TYROLEN 2016
Acción Diplomática (ES), Aga Wilk (DE), Alvar (SE), Automelodi (CA), Borusiade (DE), Cult Club (DE), Fanny Kaplan (RU), Group A (JP), Kid Fourteen (LB), Luminance (BE), M!R!M (UK), Orchidée Noire (FR), Peine Perdue (FR), Romance Disaster (DE), Roya (SE), Soft Riot (UK), Soho Rezanejad (DK), Valhall (SE), Vred (ES), Zanias (DE).

SABOTEUR MANAGEMENT BOOKINGS SHOWCASE:
Celldöd, Dom Goda Djuren, Lilla Beethoven, Phantom Feeling, Stumm/Risberg, VJ Shifty

KALABALIK PÅ TYROLEN 2015
Agent Side Grinder (SE), Claus Fovea (SE), Dernière Volonté (FR), Diskoteket (SE), Doric (GR), Forces (AU), Hemgraven (SE), Jemek Jemowit (DE), Leather Ladder (DE), Lola Kumtus (FI), Maskinpop (SE), Motormännen (SE), Mueran Humanos (DE), PERSON:A (SE), Playa del Ingles (SE), Red Mecca (SE), Sumerian Fleet (NL/HR), Tobias Bernstrup (SE), YTPO (RU), Votiiv(CA), Zarkoff (HR)

KOLLAPS RECORDS SHOWCASE:
Blipblop, Bunkersex, Seppuku, Fraktionen, The Pain Machinery, :Krakow:

KALABALIK PÅ TYROLEN 2014
Anders Flanderz (SE), Berndsen (IS), Bernholz (UK), Celldöd (SE), Gazelle Twin (UK), Keluar (DE), The KVB (UK), Liste Noire (DE), Nöi Kàbat (UK), Popsimonova (HR), Rummelsnuff (DE), Sally Dige (CA/DK), Selofan (GR), She Past Away (TR), Transfigure (UK), Villa Åbo (SE)

KOLLAPS RECORDS SHOWCASE:
Alvar, Art Fact, Facit, Knös, Operation Blue Eyes, Planet, Soundburger, Stumm/Risberg

FLEXIWAVE SHOWCASE:
Black People (UK),Colouroïd (SE), Silent EM (US), Video Look (SE)

KALABALIK PÅ TYROLEN 2013
Absolute Body Control (BE), Bonjour Tristesse (SE), :codes (BE), The Horrorist (US), The Juggernauts (BE), Kite (SE), Kontravoid (CA), Mängelexemplar (DE), No Sleep by the Machine (SE), Radical G (BE), Schwefelgelb (DE), Unhappybirthday (DE), Vanligt Folk (SE)
KOLLAPS RECORDS SHOWCASE:
Frak, Gubbjävel, Colouroïd, Emu Bomb, Atomic Playboy

KALABALIK PÅ TYROLEN 2012
Agent Side Grinder (SE), Die Selektion (DE), Henric de la Cour (SE), Jäger 90 (DE), Martial Canterel (US), Michael Dacre (SE), Mortal Memories (SE), Petra Flurr + Modernista (DE), Portion Control (UK), Råsynth i Blekinge Megamix (SE), Severe Illusion (SE), Tobias Bernstrup (SE)

KALABALIK PÅ TYROLEN 2011
64Revolt (SE), Centhron (DE), Escalator (HU), EkoBrottsMyndigheten (SE), Jemek Jemowit (DE), Position Paralléle (FR), Schramm (DE), Tarmvred (SE), The Pain Machinery (SE)

KLUBB KALABALIK
Från 2005 och framåt har vi även arrangerat fristående klubbevenemang med artister såsom:
She Past Away (TR), Essaie Pas (CA), Minuit Machine (FR), Marie Davidson (CA), Soft Metals (US), Schwefelgelb (DE), Pure Ground (US), M!R!M (UK), Memmaker (CAN/DK), Distel (NL), Jäger 90 (DE), Iambia (GR), Mortal Memories, Kite, Colouroïd, Kord, Europ Europ (NO), Morticians, Instans, Severe Illusion, Northern Electric, RBK, Effete, 8kHz Mono, Spetsnaz, Guilt Trip, Eternity Range, Auto-auto, KROPP, SPARK!, Cryo, Vision Talk, Violent Work of Art, Liquid Core, Sturm Café med fler.