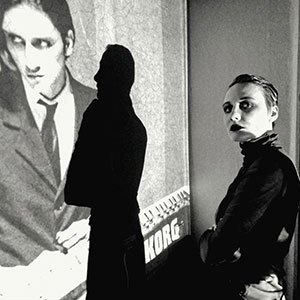 YOUNG & COLD SHOWCASE
Isotropía is a rare collaboration between Keren Batok from Zugdidi, Georgia and Angel Kauff from Mexico city. Together they create rough, bass driven post-punk accentuated by the witching haunts of Keren using the magic of online file transfer. This summer they are working to release their second album and will meet eye to eye for the very first time as they prepare for their debut live show to take place at Kalabalik.
YOUNG & COLD SHOWCASE

Russian born, Berlin based Daria Leere has been focusing on her solo career since disbanding dark wave-duo Monowelt. 'Fragmented Identity' is the title of the newly released debut album, blending rough synthpunk and NDW-influences with cold wave pop and metallic clanging. Dry drum machine patterns and analogue synthesizers interplay with clever use of field recordings and the multilanguage voices of Daria and guests.


Jemek, reborn Satanist and freshly baptized demon, travels with you through the nine circles of hell, takes you into his satanic family and shows you the treasures of the occult worldview. He brings you to the brink of human existence. He fucks your darkest fantasies. He preaches the mantra of sex and lust, of the wolf in sheep's clothing, of the young goddess who springs from a hellish vagina. The wildest, most opulent dance party sound, united with the darkest, deepest rhythmic drives of humanity. Antichrist, haram and non-kosher. DANCE THE SATAN!


We're stoked to announce the return of Minuit Machine! Amandine Stioui and Hélène de Thoury (Hante.) are back in the studio, getting ready to present all new material and making a long awaited return to the scene. Having released two fantastic albums in the years of 2014-2015. We're already longing to once again hear the fragile but powerful voice of Amandine complement Hélène's dark and scenic electronic soundscapes.


Realised in the void of a creative break from the saluted Malmö post-punk outfit RA, guitarists Felix and Martin went on a separate journey with Need for Speed. As a duo they combine elements of romantic new wave with comtemporary pop hooks to create an elegant mixture that smells of endless summer nights and the darkness they might inherit. Currently the duo is getting set to release their first full lenght album produced in collaboration with Johan T. Karlsson (Familjen).

YOUNG & COLD SHOWCASE

Joining us from Mexico city, Angel Kauff aka Stockhaussen is a one man minimal synth act gearing up to release his fourth album. Known for his involvement in projects like Frío i Vacío and Isotropía as well as collaborations with Rational Youth, Sólveig Matthildur and Lynette Cerezo (Bestial Mouths) among others, Kauff is a busy, multitalented composer and musician visiting Sweden for the first time this summer.


Belarus party post-punk masters Super Besse has been one of favorite acts since they formed and we fail to understand why it took this long for us to invite them. High energy dance punk at it's very finest.

"The main thing about Super Besse is that it's nonsense and that we don't follow the mainstream – we love France, we sing in Russian and play gigs in Europe with a powerful punk spirit at our shows and coldwave synth sounds in our songs. We try to mix it all."