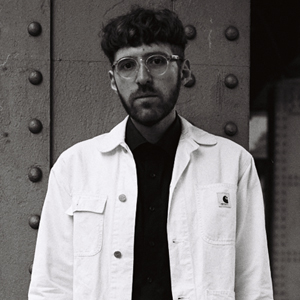 Born in Australia and based in Berlin, Kris Baha is best known for his own skewed, mutant dancefloor productions. Inhibiting their own sound space in between industrial, EBM, minimal wave, techno and krautrock. In recent years Baha has been showering us with quality releases on renowned imprints like Pinkman, CockTail D'Amore, Bahnsteig 23 and She Lost Kontrol.
Shaped by backgrounds in punk rock and electronic music, the distinctive sound of Leroy Se Meurt is abrasive and hypnotic. Energetic old school EBM fused with fierce electro and bound by punk ethos. The Paris duo is just about to unleash their second EP 'La Chute' via the formidable Enfant Terrible.




Formed by Alison Lewis (Zanias) and Ryan Ambridge in 2011, Linea Aspera released their self titled debut album the following year. An iconic work for the resurgance of minimal synth and cold wave during the last decade. The duo disbanded in 2013 but is now back on stage with all new material in the works.

Based on traditional music, magic, and demonology of Eastern Europe, Mala Herba's performances are sonic rituals. Drawing from darkwave and minimal synth, sometimes the melody cracks, the voice becomes a magic spell and the song transforms into a noise soundscape. Polyrhythmic pulsations are stacked on top layers of harsh noise and processed archival samples when the arpeggiated bass kicks in again and the music oscillates between haunted italo-disco and dark techno.


Oakland duo Douglas Du Fresne and Patrick Tabor return to Sweden and Kalabalik with their first full length album finally out in the wild. Irresistibly catchy electronic pop that will leave you feeling warm inside. Possibly California's largest synthpop group.



The underground Greek 80's scene, where new wave and punk was expressed via synthesizers, becomes the starting point for MFOLM, capturing the musical subculture that left an indelible mark on the hearts of those who fell in love with the 'machines'. A concise documentation of the minimal synth and synthpunk scene in Greece, starring the synthesizers, the rhythmboxes and the guys who loved them. Documentary screened in Greek language with subtitles in English.


Los Angeles based dark synth-pop outfit commandeered by the mysterious Niff Nawor, a visual artist and musician active in the deathrock / anarcho-punk scenes of the California bay area. On her self-titled debut album , Riki explores courage, physicality, and romance across eight timeless synth pop anthems.


American-Swedish electronic artist Roya emerged from the depths of Stockholm's dark synth scene with her own take on the genre. Soft, melancholic but still rhythmic. Since we last saw her on stage at the festival she released the award-winning LP 'Hive' in 2016, followed this winter by the new album 'Pulse'.


Founded in 2016 by three DJ's, Rue Oberkampf has made a name for themselves combining 80s ecstasy with the atmosphere of fogshrouded, strobe-lit dance temples of the techno era. Elegantly fusing genres such as cold wave, synthpunk, EBM and techno. Their debut EP 'Waveclash' (2018) was followed late 2019 by the acclaimed album 'Christophe-Philippe' on Young & Cold.


Formed in 2012 Selofan is numbered among the protagonists of the dark electronic music scene. Since we saw them last time in 2014 the theatrical duo released another four albums on their own label Fabrika records, which much like the duo themselves has been a vital bastion for the international scene this past decade.


Kiev duo Stepan i Meduza formed in 2012 as a new wave / art punk outfit, slowly evolving into a more distinct electronic sound. Their catchy synth pop comes with a clear 80's and 90's heritage and carries an unusal Kiev vibe. Latest album 'Прощение' (Forgiveness) was released in 2017 on Worn Pop and is to be followed by a new EP this summer.


Dmitry Filyushin formed ШТАДТ (STADT) after leaving the ongoing armed conflict in Donbass, Ukraine. Living years on the streets of Saint Peterburg and Moscow, from crash pad to the next, bringing maximum tension to his performances. Fusing elements of darkwave, EBM and electro Dmitry envisages abstract images of homelessness, state of war and inner hatred.