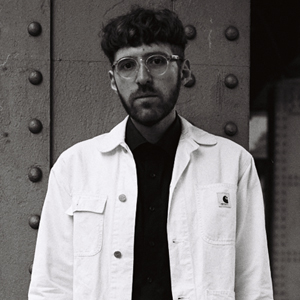 Born in Australia and based in Berlin, Kris Baha is best known for his own skewed, mutant dancefloor productions. Inhibiting their own sound space in between industrial, EBM, minimal wave, techno and krautrock. In recent years Baha has been showering us with quality releases on renowned imprints like Pinkman, CockTail D'Amore, Bahnsteig 23 and She Lost Kontrol.
Shaped by backgrounds in punk rock and electronic music, the distinctive sound of Leroy Se Meurt is abrasive and hypnotic. Energetic old school EBM fused with fierce electro and bound by punk ethos. The Paris duo is just about to unleash their second EP 'La Chute' via the formidable Enfant Terrible.




With the use of her voice, trombone, megaphone, homemade electronics, loops and drum machines Mag, or Magdalena Ågren build her musical universe. Sometimes restrained and suggestive, sometimes chaotic and wild. Mag's music is an act of resistance to the control of society. It is music that is written out of frustration and sadness straight from the heart. It strives for deep introspection and expressive power, seeking both confrontation and commonality but doesn't care at all about codes of conduct.


Based on traditional music, magic, and demonology of Eastern Europe, Mala Herba's performances are sonic rituals. Drawing from darkwave and minimal synth, sometimes the melody cracks, the voice becomes a magic spell and the song transforms into a noise soundscape. Polyrhythmic pulsations are stacked on top layers of harsh noise and processed archival samples when the arpeggiated bass kicks in again and the music oscillates between haunted italo-disco and dark techno.



The underground Greek 80's scene, where new wave and punk was expressed via synthesizers, becomes the starting point for MFOLM, capturing the musical subculture that left an indelible mark on the hearts of those who fell in love with the 'machines'. A concise documentation of the minimal synth and synthpunk scene in Greece, starring the synthesizers, the rhythmboxes and the guys who loved them. Documentary screened in Greek language with subtitles in English.


Founded in 2016 by three DJ's, Rue Oberkampf has made a name for themselves combining 80s ecstasy with the atmosphere of fogshrouded, strobe-lit dance temples of the techno era. Elegantly fusing genres such as cold wave, synthpunk, EBM and techno. Their debut EP 'Waveclash' (2018) was followed late 2019 by the acclaimed album 'Christophe-Philippe' on Young & Cold.


Schluss Licht is a synthy post-something solo-project from Leipzig. A somewhat repetitive, yet immersive experience that draws inspiration from minimal wave, NDW, synth pop and cold wave with a generous dash of nostalgia. Last year saw the release of his debut EP "Spät Dran" on Stockholm label åtåmåtån and a full lenght album is currently in works.


Formed in 2012 Selofan is numbered among the protagonists of the dark electronic music scene. Since we saw them last time in 2014 the theatrical duo released another four albums on their own label Fabrika records, which much like the duo themselves has been a vital bastion for the international scene this past decade.


James Brook (Ex. Pardon Moi frontman & Producer/Songwriter) and Swedish Producer/ Artist Josefine Larsson, present Sex Kino. A plastic fantastic New Wave explosion born somewhere between Berlin and Stockholm. Memorable themes and catchy hooks with a veneer of 80's Dark Disco cool provide a backdrop for songs of dystopian lust & romantic flights of fancy.


Skuggministeriet is new project by Anders Karlsson (Celldöd) which shows him in a sweeter and more melodious light. Debut EP 'Caged' will be released on Spanish 'Femur Records' this August described as a weird blend of early Front 242, Sheffield pioneers and 80s US proto electro.


Tobias Kastberg, known as a about half of hailed electro punk duo The Guilt started Vex as a solo venture in 2019. Writing pop hit choruses with punk attitude he released his debut album 'Average minds think alike' this spring. Gathering inspiration from 70's punk, 80's synth pop, 90's house and contemporary (electronic) music in general. The result might sound like an angry Pete Shelley or maybe Devo, if produced by Mr. Oizo. Kooky, slightly goofy, Vex embraces the weirdness and stalwartly dances on the fence of camp.